Shvarzblat loves paintings, watching them and creating them.
As an artist Chayim Shvarzblat "sees", contemplates and feels, more clearly, further and deeper… and possesses the will, the inference, and the courage to show it. Shvarzblat paints because he feels that it is the best he can do for others and for himself. In fact, that was among the first things he realized when he started painting. He was then 16 years old, and since then this knowledge has become his strongest motivation and stimulus.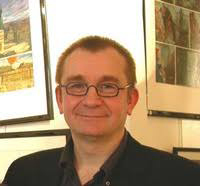 Being an artist is a great privilege and an excellent way to develop and progress as a personality. What drives Chayim Shvarzblat to paint is mostly curiosity … how far he can go, and how he can best present that through the language of art. The surprises that are experienced in this journey are a sense of great achievement and pleasure.
Technique Used by Chayim Shvarzblat
Chayim Shvarzblat uses a watercolor technique on the canvas because it is best suited to his sensibility, and because he considers drawing as the ground for all visual arts.
While painting, he tries to keep the balance intuitive and rational because this approach is most appropriate to him. He doesn't insist on passing a certain "story", theory or conclusion to the viewer, but rather allows the painting to provoke their own point of view, through its "imperfection".
Themes and Motifs in Schvarzblat's Art
Painter Shvarzblat chooses themes and motifs spontaneously. He often incorporates people because they are a universal and inexhaustible source of inspiration, city scenes because they are challenging to routinely present everyday life in light and deeper sense, and landscapes because they are a great way to keep in touch with the natural environment.
However, the subject and the content are not the most intriguing part of his paintings but the way of interpretation. Chayim Shvarzblat believes that the greatest challenge for the painter (seemingly) to be trivial is to present in the light of reality and give it meaning.
Chayim Shvarzblat is a defender of freedom in the opinion and expression of the liberty with which it is a matter of discretion .. without easily passing into arbitrariness.
He paints for himself and for others.
Shvarzblat loves paintings, watching them and creating them.